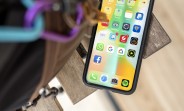 A new report purportedly coming from "people with knowledge of the matter" says Apple is working on bringing curved screens to its smartphones, a move which may happen in around 2-3 years. These panels will curve inward gradually from top to bottom, and not down at the edges like Samsung's recent flagships.
It's unclear if Apple sees any additional benefit in ergonomics by going a different direction with its curves, or this is simply a measure meant to preemptively stop people from saying it copied Samsung.
Apple iPhone X
Although the OLED panel of the iPhone X curves at the...
Date:
Wednesday, April 4, 2018 - 11:12