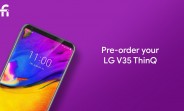 A couple of LG phones are now available to pre-order at Project Fi, Google's MVNO cellular service. The devices in question are V35 ThinQ and G7 ThinQ, as announced by the carrier on Twitter.
Edge-to-edge display, bright colors, smart cameras, powerful speakers...Do we have to keep going? The LG G7 ThinQ is calling your name.https://t.co/TGseKW7LCG pic.twitter.com/cfuSCXfirH— Project Fi (@projectfi) June 19, 2018
It's light as a feather and packs a lot of power. Meet the LG V35 ThinQ, now available for pre-order on Fi.https://t.co/fQuZysKdei pic.twitter.com/2uj9BJluGQ— Project...
Date:
Wednesday, June 20, 2018 - 05:09