MacBook Pro 2017 release date, news and rumors
It only took a few months, but after the lukewarm response to Apple's MacBook Pro released back in October 2016, it only makes sense that reports and rumors have already begun to surface of a MacBook Pro for 2017.
While the OLED Touch Bar was an ace complement to the non-touch Retina display of the MacBook Pro, its internal specs were outdated on arrival, making its steep cost of entry a controversial facet of its identity. 
Fortunately, the future appears bright for the MacBook Pro 2017, which sources claim will bring the laptop's CPU architecture up to date. However, there is still plenty we don't know, so return to this page frequently, as we update it with the latest news of the would-be 2017 MacBook Pro.
Cut to the chase
What is it? The new MacBook Pro's successor
When is it out? A WWDC 2017 reveal is currently expected
What will it cost? Likely as much as current models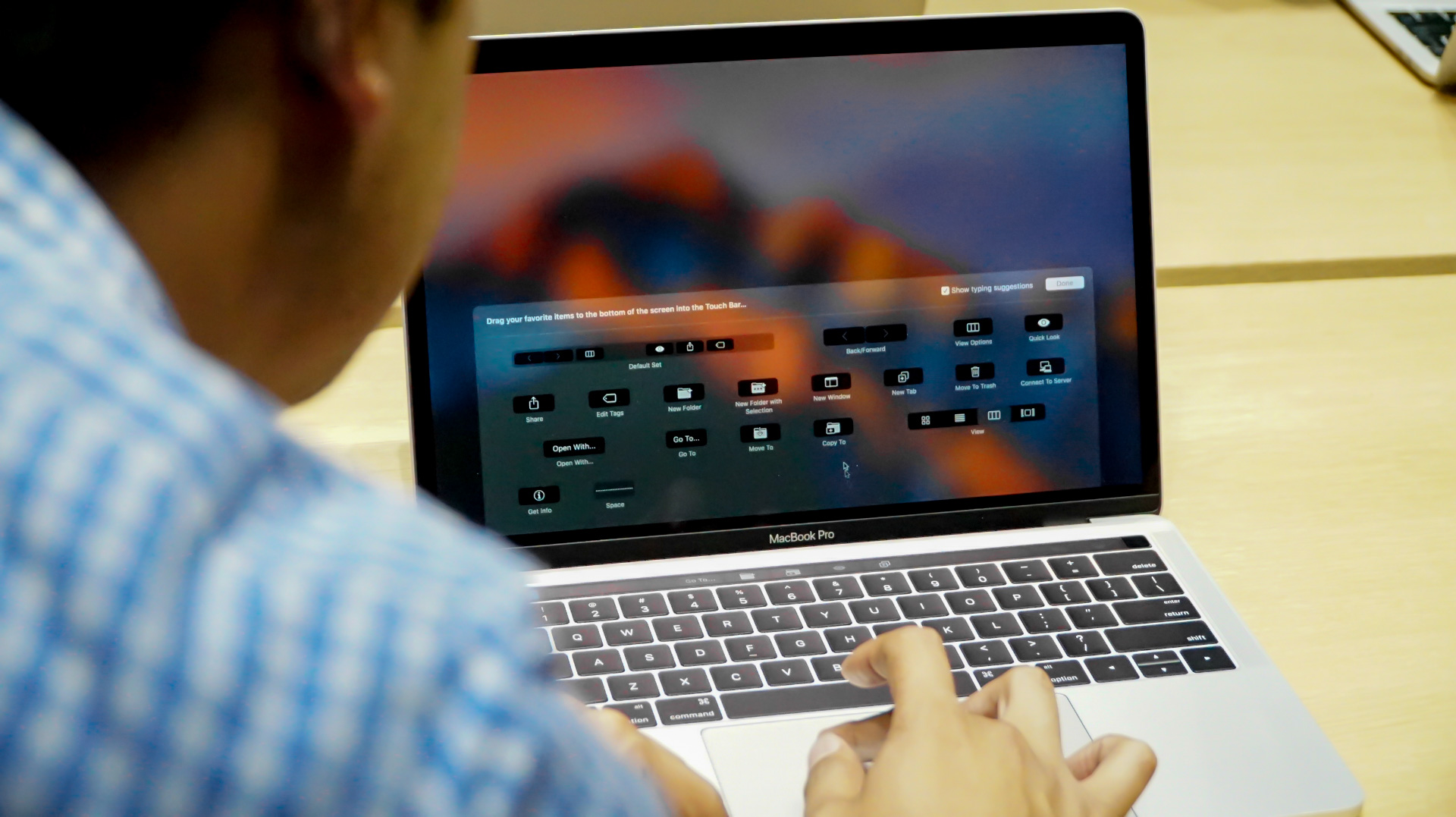 Anticipate seeing the Touch Bar on the next MacBook Pro models
MacBook Pro 2017 release date
A report out of Bloomberg last month quoted sources "familiar with the matter" stating that Apple plans to debut three different MacBooks during its Worldwide Developers Conference (WWDC) keynote held on June 5, 2017.
Seeing as a Foxconn insider on Reddit said the MacBook Air was essentially dead in the water, we can assume that two of these will be MacBook Pro's (13- and 15-inch) while the third and final MacBook premiere at WWDC 2017 will be of the 12-inch MacBook variety.
Now, since Apple generally doesn't like to tease products too long before they're set to release – ahem, Apple Watch – that would mean a new MacBook Pro in time for back to school rather than the middle of the autumn semester.
MacBook Pro 2017 price
Considering the backlash to the price hike we saw coming from the generation of MacBook Pro's into the current one, we wouldn't expect to see major changes in MacBook Pro pricing. Of course, we wouldn't anticipate them coming down in price by comparison. That would just be too good to be true.
So, it would be safe to expect the next line of MacBook Pro models to start at $1,499, £1,449 or AU$2,199 – starting with the lowest-power, non-Touch 13-inch model – and top out around $2,799, £2.699 or AU$4,249 for the highest-end, 15-inch model with Touch Bar.
With that in mind, you can expect what stock remains of the 2016 MacBook Pro to see a price reduction. Given Apple's 15.4% increase in overall notebook sales in Q1 2017, Apple may need to find a way to sweeten the deal for its many customers burned by this imminent "off-cycle" upgrade.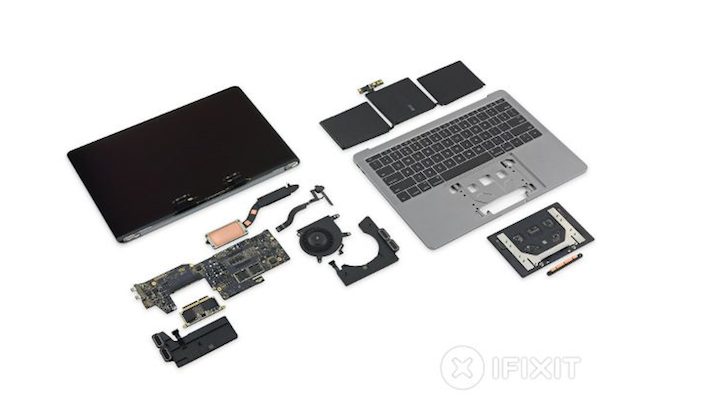 The 2016 MacBook Pro in an exploded view
MacBook Pro 2017 specs
Probably the biggest point of discussion regarding the new MacBook Pro is what Apple will choose to place inside. This is one of the most divisive points surrounding the current range of MacBook Pro's and continues to be so as long as Apple continues its particular trend of price per part.
The current line of MacBook Pro's has been criticized for its low RAM, or memory, threshold of 16GB as well as its use of "dated" 6th generation (Skylake) Intel Core i-series processors. Naturally, a January rumor surrounding the would-be new MacBook Pro stated that it will contain both the latest, 7th generation (Kaby Lake) Intel Core i-series chips as well as room for up to 32GB of RAM.
These details were first brought to the public via the same aforementioned report in which Ming Chi-Kuo projected the release window for the new MacBook Pro's. But since, evidence of these Kaby Lake-equipped models has allegedly appeared within the code of the macOS Sierra 10.12.4 beta – the one currently underway, as of this writing.
Further to this scuttlebutt regarding what will be inside the new MacBook Pro is the same May 16 Bloomberg report citing the WWDC 2017 debut, calling out the same Intel part by name. 
That might not be the only bit of new silicon in the MacBook Pro for 2017, though. 
Apple is reportedly working on a new co-processing chip that will be a logical extension of the ARM-based T1 processor currently used to power the new MacBook Pro's Touch Bar. This chip would reportedly take on more power management tasks that Intel's processors currently handle, with the goal of increasing battery life.
It may be a stretch to say, but given that the T1 was used to power the Touch Bar, this new and improved proprietary silicon could be used to aid a (patented) full-on virtual keyboard, an idea that Apple has been timidly approaching since 2011. Only time will tell if the company brings it any closer to light come the next MacBook Pro.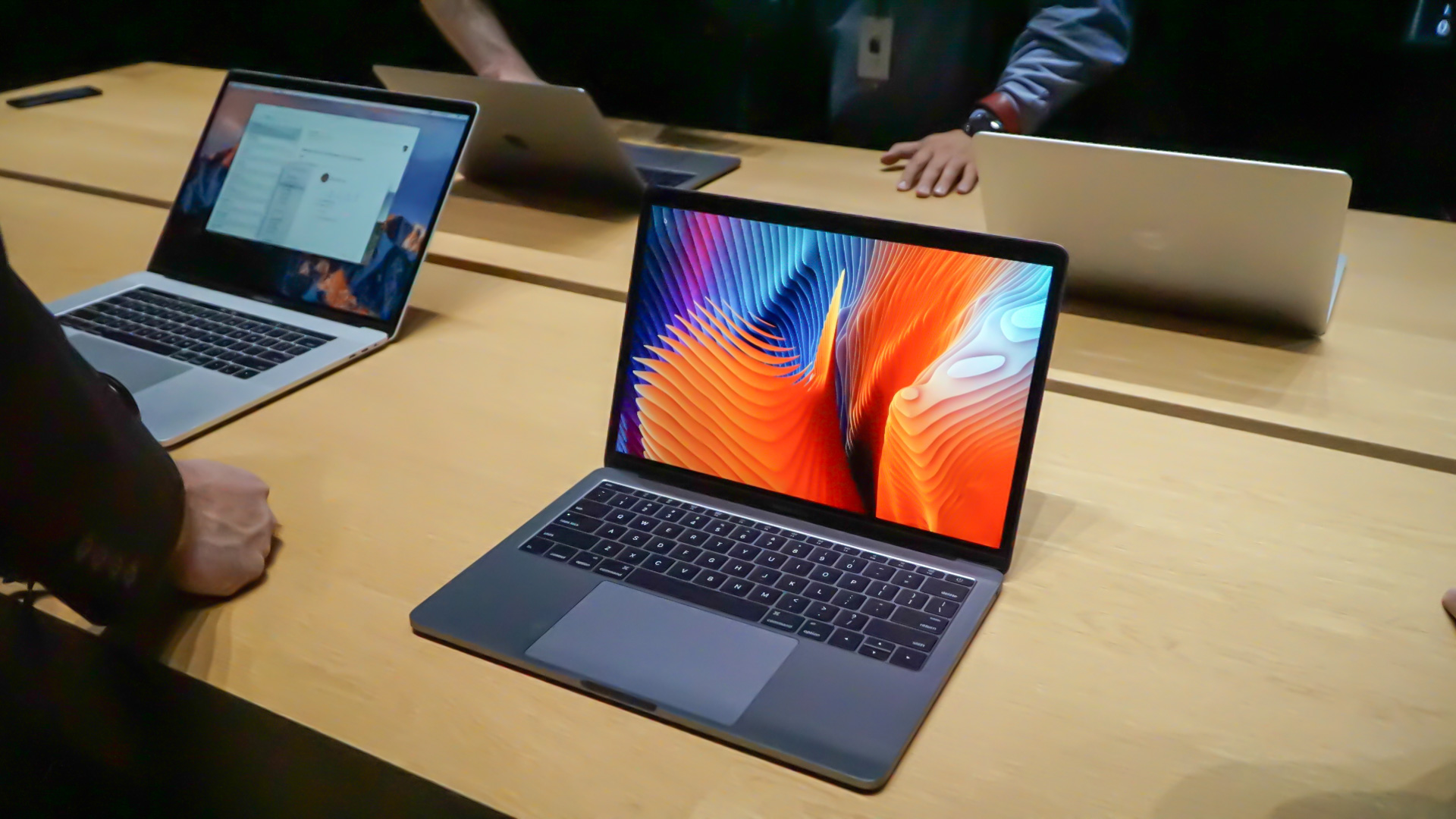 For starters, we'd like to see even sharper screens
MacBook Pro 2017: what we want to see
Beyond these reports, we know little else about what the new MacBook Pro will be capable of. Of course, we've drafted up a brief wish list for Apple's next pro-bent laptop.
Longer battery life
This is no doubt low-hanging fruit, but being one of the primary complaints lobbed toward Apple for the MacBook Pro's of today, we couldn't help ourselves. After all, Apple once prided itself on the longevity of its laptops.
And, the firm has quite a lot going for it in this direction. Between rumors of more power-efficient Kaby Lake processors inside and those of a special power management chip, longer battery life should be in the bag for the new MacBook Pro.
Sharper screens
Apple no doubt spurred the obsession with screen resolution in all consumer electronics once it unleashed its "Retina" screen standard years ago with the iPhone 4. But, the rest of the technology world has at last caught up to the firm's screen sharpness.
Frankly, in computing, Apple's Retina display was surpassed years ago, and it's about time that its standards for "Retina" were updated. Especially for the price, the new MacBook Pro's should come sporting 3,200 x 1,800 QHD+ displays at least – and that's at 13.3 inches.
Naturally, what we'll see is some incredibly particular resolution that hovers around industry standards but doesn't get too close. Jokes aside, it's time for sharper MacBook Pro screens.
More (and more varied) ports
Throwing a glut of Thunderbolt 3 ports, while impressive, at a laptop doesn't solve the users' problem of not having compatible connectors or accessories to use them with. To that end, we need to see either more variety in the ports that the new MacBook Pro offers or for Apple to include more adapters in the box.
Professional users need to be bridged between where they are technologically right now and where a creator like Apple envisions them being in the next few years. At the very least, a few more USB-C adapters would go a long way.
These are the best laptops that the new MacBook Pro is up against
Date:
Monday, June 5, 2017 - 12:30
Simple, Fast, Reliable Server Hosting - Since 1994
Receive a $15 credit instantly.
Fast Cloud Hosting
Windows, Linux and FreeBSD Servers - Up in 30 Seconds
Create a Cloud Hosting account and receive a $15 credit Click Here