Price and availability
Chinese handset-maker Oppo has a habit of aping either Samsung or Apple when it comes to its phones hardware and software design (the recent iPhone X-like Oppo R15 Pro is a prime example), so the new Find X is something of a welcome surprise, offering up some seriously fresh takes on the modern smartphone.
Immediately obvious to anyone who's glanced at the phone is its all-encompassing display, with a whopping 93.8% screen-to-body ratio (the highest we've seen to date) made possible by near-absent bezels and a headline-worthy camera trick.
But the Find X isn't solely relying on its novelty. Backing up this stylish aesthetic is an incredible array of internals, with an awesome 8GB of RAM that complements the powerful Snapdragon 845 at the heart of the device.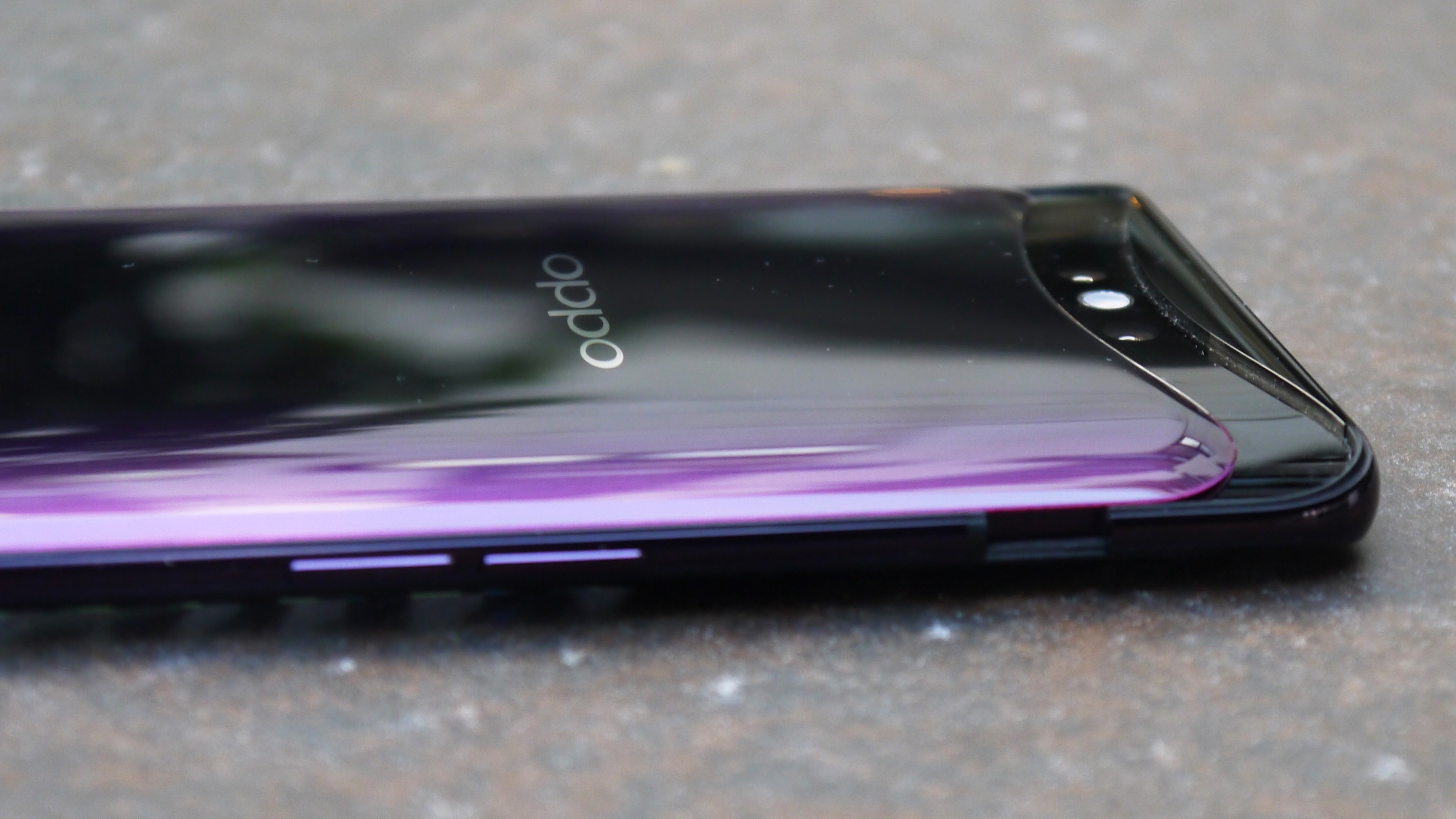 In the West, the Find X is available in Australia at a price of AU$1,099 and has a €999 price tag in Europe. We've not yet been given any word on US availability, and while the handset will be available in the UK, we haven't been given pricing or release details on that either.
There's little doubt that this is Oppo's boldest smartphone to date – in both pricing and features – but whether or not it's worth the investment will ultimately depend on what you're after, and what alternatives are available in your region.
While its novel display and camera design won't surpass gimmick-status for many, and may even be considered a hindrance to some, its premium power and prettiness definitely make it worthy of consideration against even more expensive flagship competition.
Key features
Brilliant notchless display
Pop-up camera and sensors
Top-shelf specs
3D facial recognition
Without a doubt, the notchless AMOLED display and counterpart pop-up camera array are the features that define the Find X, for better and for worse. The sleek aesthetic that this allows for is at the forefront of Oppo's marketing, and for good reason – it looks stellar.
It's been a while since Oppo has released any major new Find-series handsets. The Find 7 launched in 2014 with a then-novel 2K display resolution, a feature that was only available in one other phone on the market at the time – the Vivo Xplay 3S.
Interestingly, a Vivo handset (the Vivo Nex) was also the first to rock the bezel-free, notchless display and pop-up camera combo that the Find X is now banking on, although it's worth noting that Oppo beat Vivo to market on this one in the West.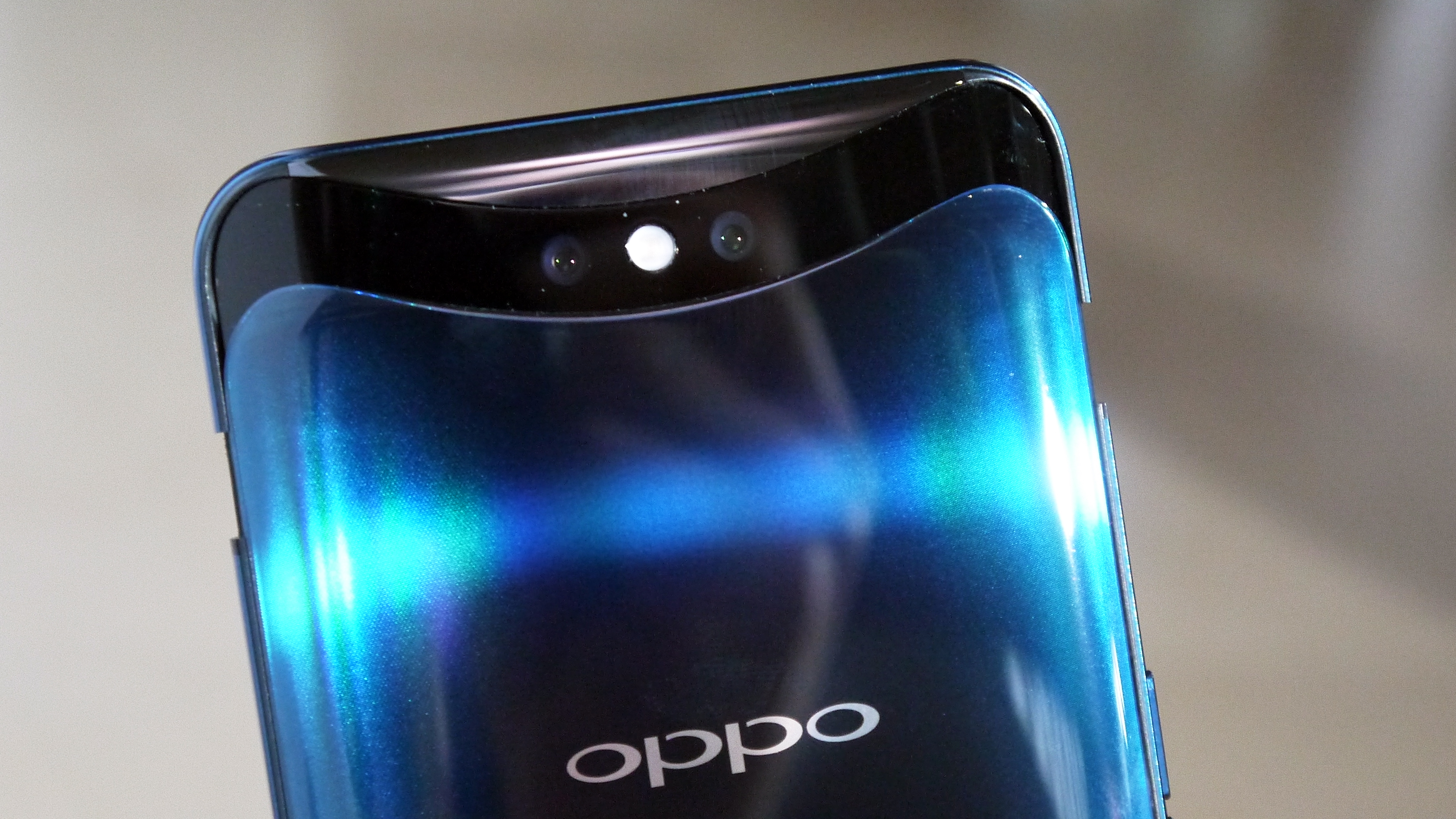 While the camera mechanism and trim styling marry up to make a noteworthy design, this does arguably steal the limelight from some of the handset's other strengths – namely, it's insane performance. 
The processing, graphical, and battery power of the Find X comfortably compete with, and often outdo, phones in a significantly-higher price range, such as the Galaxy Note 9. In fact, if Oppo had opted to drop the screen/camera gimmick for a slight price cut, this would still be a potent contender for the best-value Android phone on the market.
While we generally applaud innovation in the smartphone realm, we also have our misgivings about this phone's 'star' feature and, unfortunately, it's a device that's also held back by software grievances and missing hardware features that are all but standard in other Android flagships at this point.
Design and display
6.4-inch AMOLED display
93.8% screen-to-body ratio
No waterproofing or fingerprint scanner
No microSD or headphone jack
We'll kick it off with the good news when it comes to features: the screen Oppo's used on the Find X is impressive, which is a relief considering how much of it there is. 
The AMOLED display is vivid and bright, and with its stupendous 6.4-inch size, is ideal for watching media on the move. Its 1,080 x 2,340 resolution is certainly decent but can occasionally lack clarity when compared to rivals like the HTC U12+, which boasts a 1,440 x 2,880 resolution over 6-inches.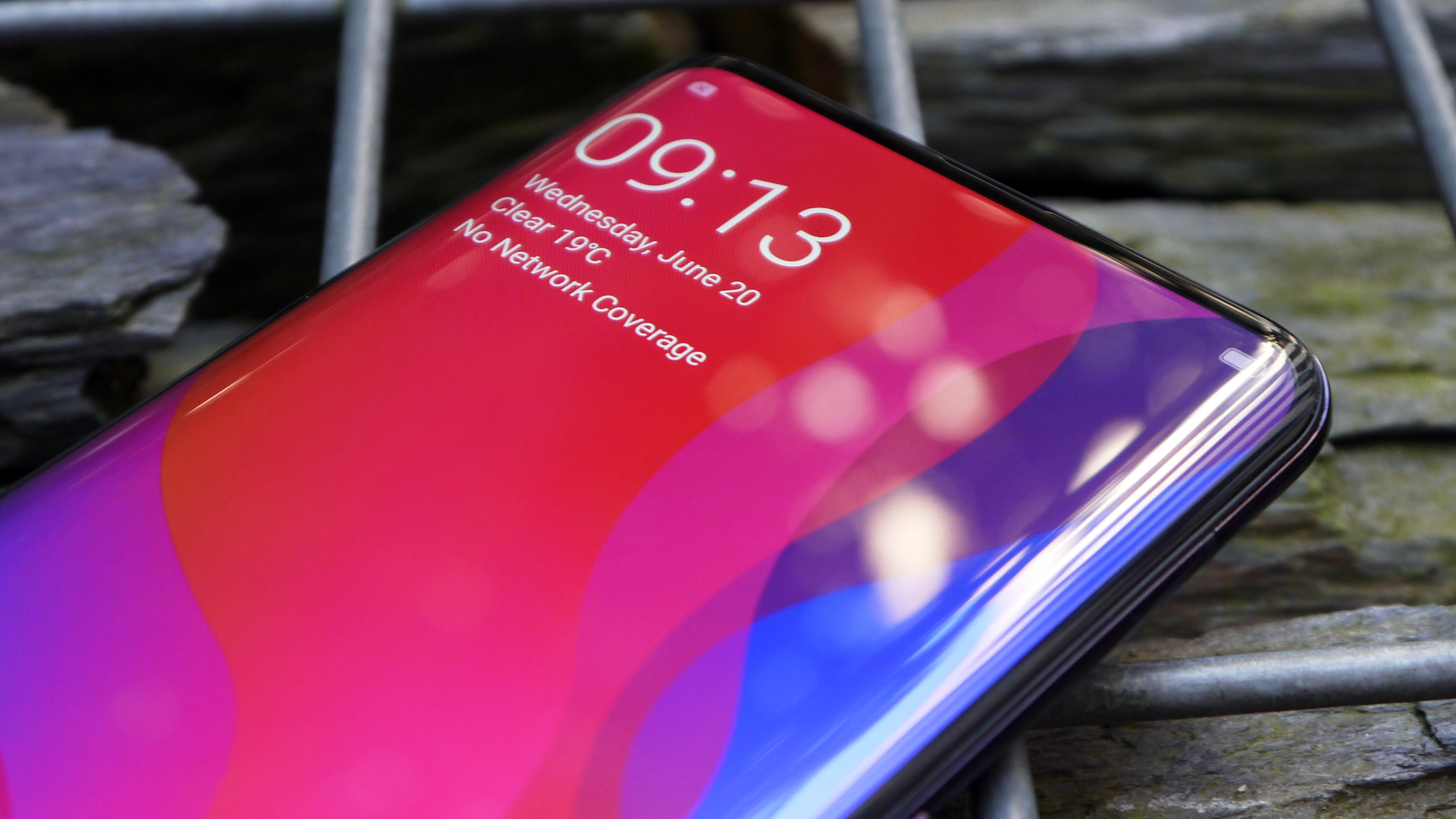 There's two available colors – Bordeaux Red and Glacier Blue – and both look rather striking in person. While the majority of the handset's rear is a glossy black, its bordered by iridescent highlights in your color of choice, and these play with the light as you angle the handset.
The Find X's 'Panoramic Arc' screen features similar curved edges to Samsung's recent Galaxy flagships (such as the Galaxy S9) and is mirrored on the phone's dazzling rear. This svelte sheen coupled with the pop-up 3D facial scanning makes the unit feel somewhat alien – more at home in Men in Black than Men in Finance.
The combination of the rounded edges and the near-absent bezels makes for a somewhat surreal experience when holding the phone, although admittedly, this effect is only slightly more pronounced here than when compared to other contemporary all-screen handsets.
The lack of a notch in that display also leads to the Find X's most unique feature. Given the absence of any front-facing cameras, sensors or speakers on the handset's face, Oppo's solution is to house these all in a sliding, motorised shelf that automatically extends when it's needed. 
It's been a while since we've seen any such mechanisms in a handset , especially ones which involve automation (the most recent that comes to mind is the Oppo N3), but is it as clunky as it sounds? 
Oppo's word is that the motorized mechanism has a durability rating of over 300,000 uses, which would allow you a little over 400 movements every day for two years (that's more or less the average length of time people hang on to their handsets).
Despite this promise, we can't help but feel a little sceptical that the whirring motor will be able to maintain its full speed over that lifetime, and it's not necessarily zippy out of the box, taking just under a second to fully extend.
The sliding drawer also has a tendency to collect pocket lint and dust, which we assume isn't particularly healthy for the handset when it slides back in. When extended, it also feels a little spongey, offering moderate resistance but a little wobble when handled.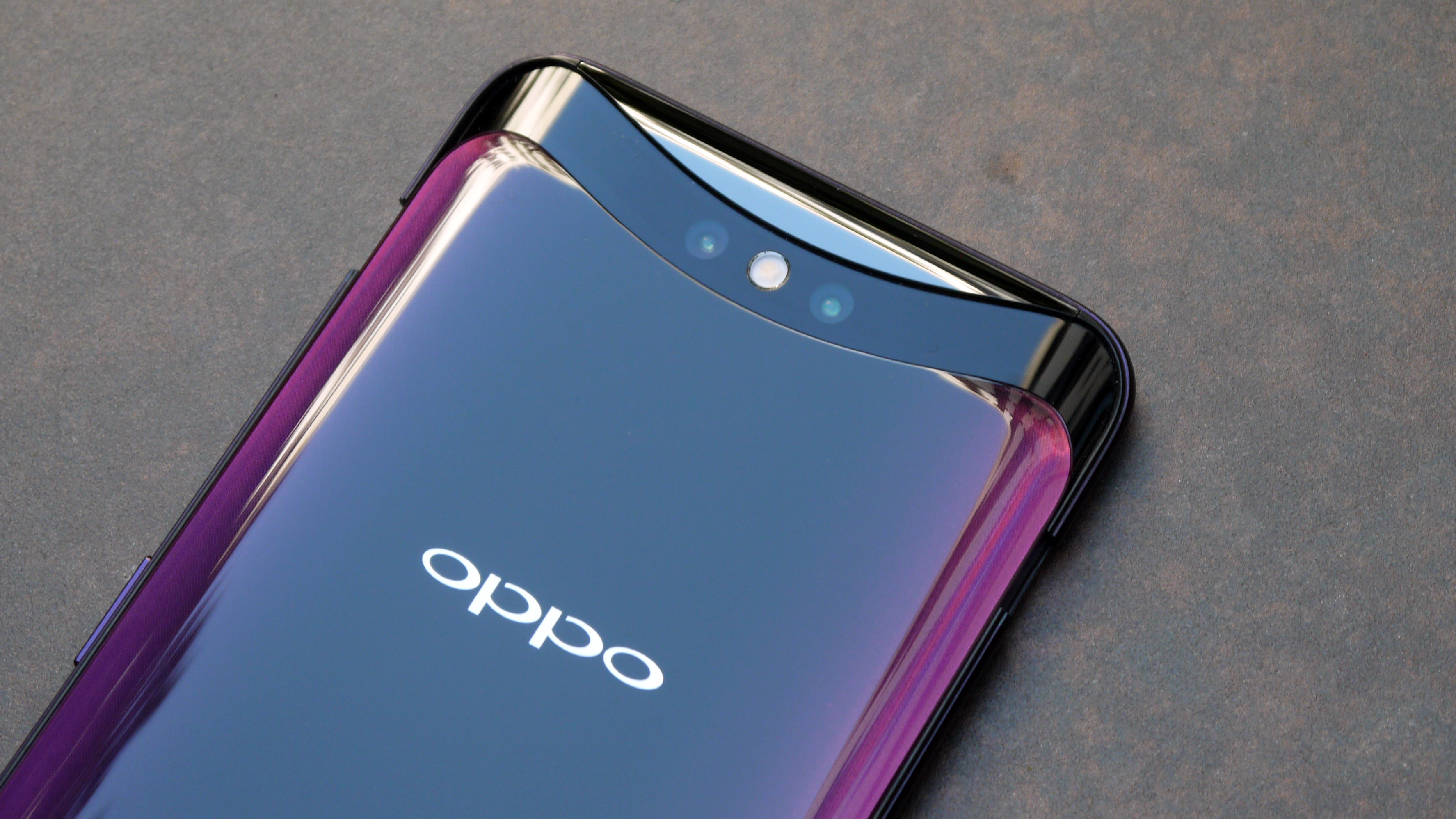 All this wouldn't pose such an issue if Oppo hadn't doubled-down on 3D facial recognition as the primary security measure for the handset. If there were a fingerprint scanner too, then users could cut down their reliance on this gimmick severely, relegating the sliding shelf to taking photos and selfies.
While the facial recognition itself is just as snappy as its Samsung and Apple equivalents, even sporting an infrared scanner to allow for unlocking in the dark, the speed of the recognition tends to be bottlenecked by the speed of the mechanism itself. 
In the case of this bearded, bespectacled reviewer, facial recognition was unsuccessful often enough that we ended up compromising and deactivating it (alongside the tedious passcode). Not an ideal situation, but in our case, turning off our handset's lock-screen security slightly outweighed the frustrating alternatives.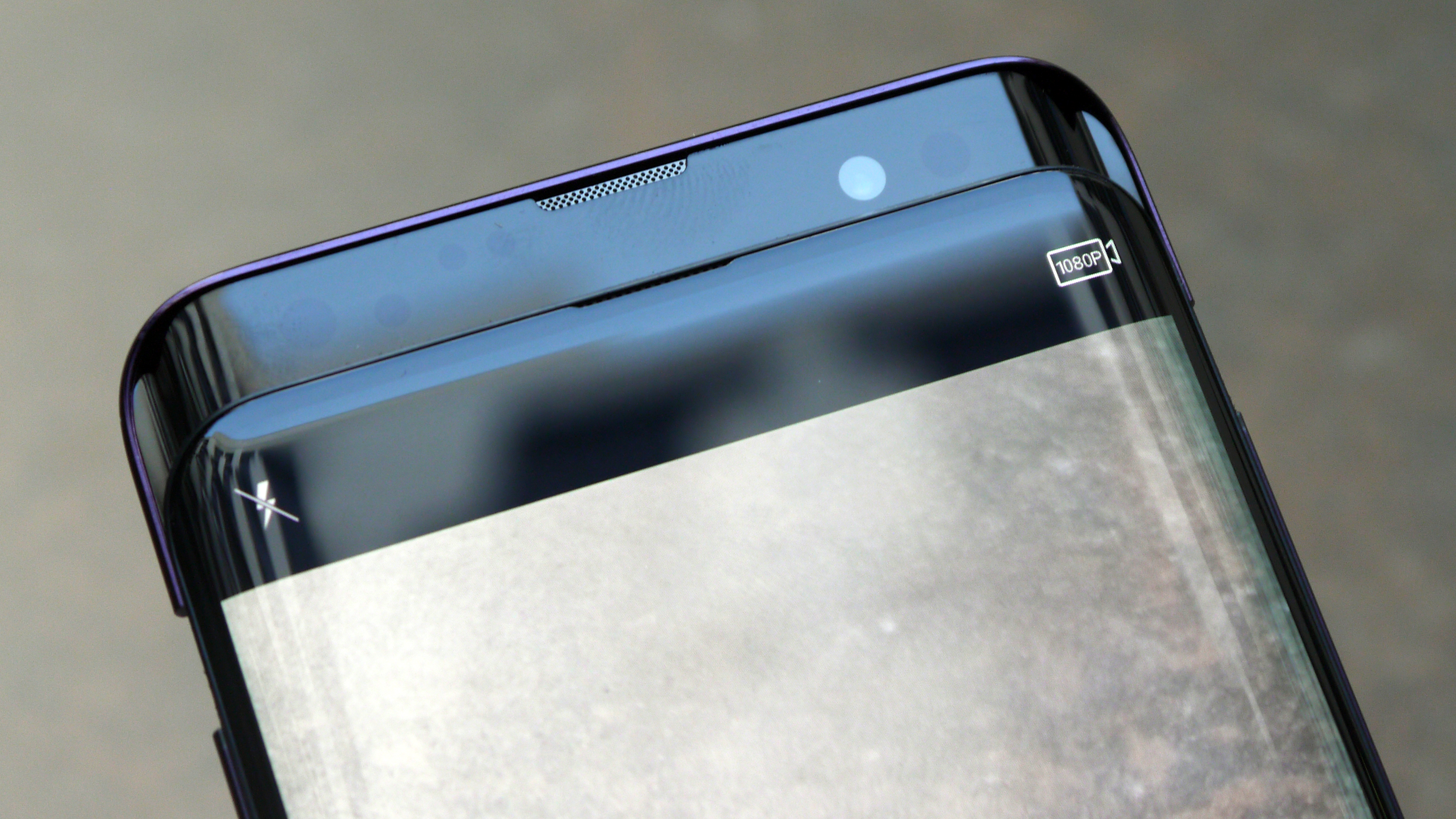 Once we've gotten past the beauty and anguish of the Find X's signature feature, the rest of the handset's layout is fairly straightforward, with volume and power buttons on either side, and the rest relegated to its base.
Notably missing, however, is any sign of storage expansion options such as a microSD card slot – and there's no 3.5mm headphone jack for that matter, either. Naturally, the top of the phone is unable to support these kinds of features due to its mechanism, and the base of the phone is already crowded.
Another victim of the pop-up camera is any promise of water resistance – something we've come to expect in most modern handsets, let alone premium flagships. Again, if there weren't so many necessary design sacrifices being made for the sake of the sliding shelf, then we'd be a little more forgiving of it.
Battery
3,730mAh capacity
Above-average performance
VOOC Fast Charge is really fast
Thankfully, Oppo has ditched the micro-USB charging port that it's perplexingly stuck with even up to recent flagships (we're looking at you again, R15 Pro) and replaced it with the rightful heir to the throne: USB-C.
The company's VOOC Flash Charge technology is much less silly than the name would imply, allowing for some speedy top-ups, particularly when charging from lower percentages. For instance, we saw the battery rise from 12-87% in just under an hour, although it should be noted that VOOC slows down significantly after it hits the 80s.
We're happy to say that the big 3,730mAh battery isn't just for show either, with decent optimisation making it comfortably last a day and half's usage, and likely even a full second day if you're not too heavy-handed with power-hungry tasks.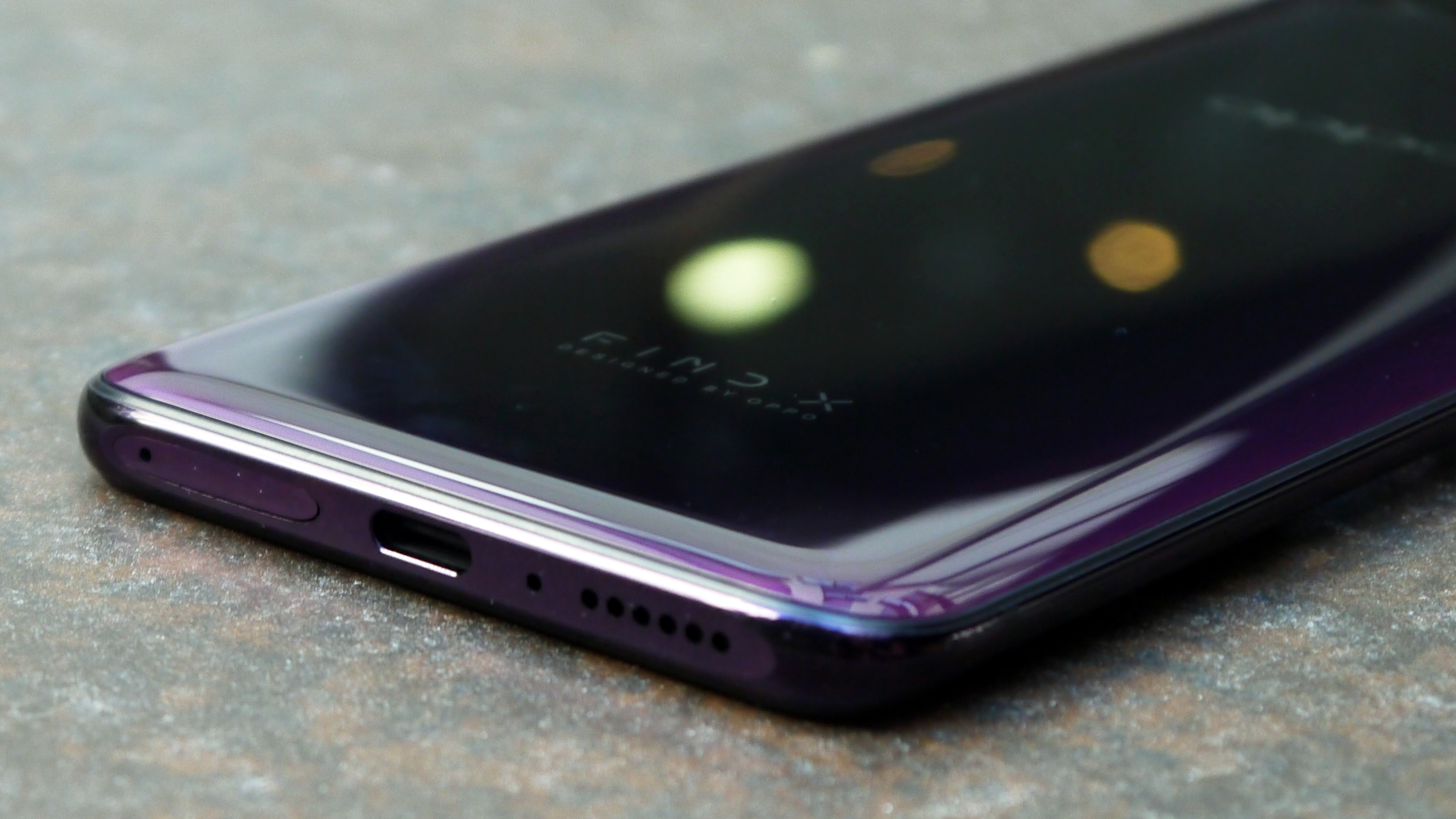 In our PCMark Work battery tests, the Find X scored 8 hours 4 minutes, which beats out the Galaxy S9 at 7 hours 44 minutes, and the HTC U12+ at 6 hours 24 minutes, and doesn't look too shabby next to the 4,000mAh battery-touting Galaxy Note 9, which scored 8 hours 56 minutes.
While PCMark's Work test focuses on processor and RAM-intensive activities, the GFXBench tests we ran showed the Find X battery drained much quicker when it was cranking its GPU, so those looking to game on the go may have to be a touch more conservative if they want to hit that second day.
Camera
Dual-lens primary camera
25MP front-facing camera
Extensive beautification
Tap on the camera app and up pops that sliding drawer again, housing its dual rear camera (16MP + 20MP) as well as its 25MP selfie camera. While we won't dwell much further on this feature, we will mention that it makes holding the phone in landscape a little awkward due to the spongy resistance it gives in the hand.
Oppo's camera app offers just about every photo and video mode we've come to expect from an Android flagship in 2018, with portrait, panorama, sticker, and expert modes for capturing stills, and slo-mo and time-lapse joining the standard video affair.
With that said, it's slightly strange that there isn't any settings menu to speak of. You can't lay a grid over the display in order to align shots better, for instance, and neat modes such as light-painting and long exposure that appear in Huawei flagships aren't present here.
Several of these settings are available on both the front and rear camera, meaning you can apply the bokeh-style portrait effects to selfies or film yourself in slo-mo. And then, of course, there's the beauty settings…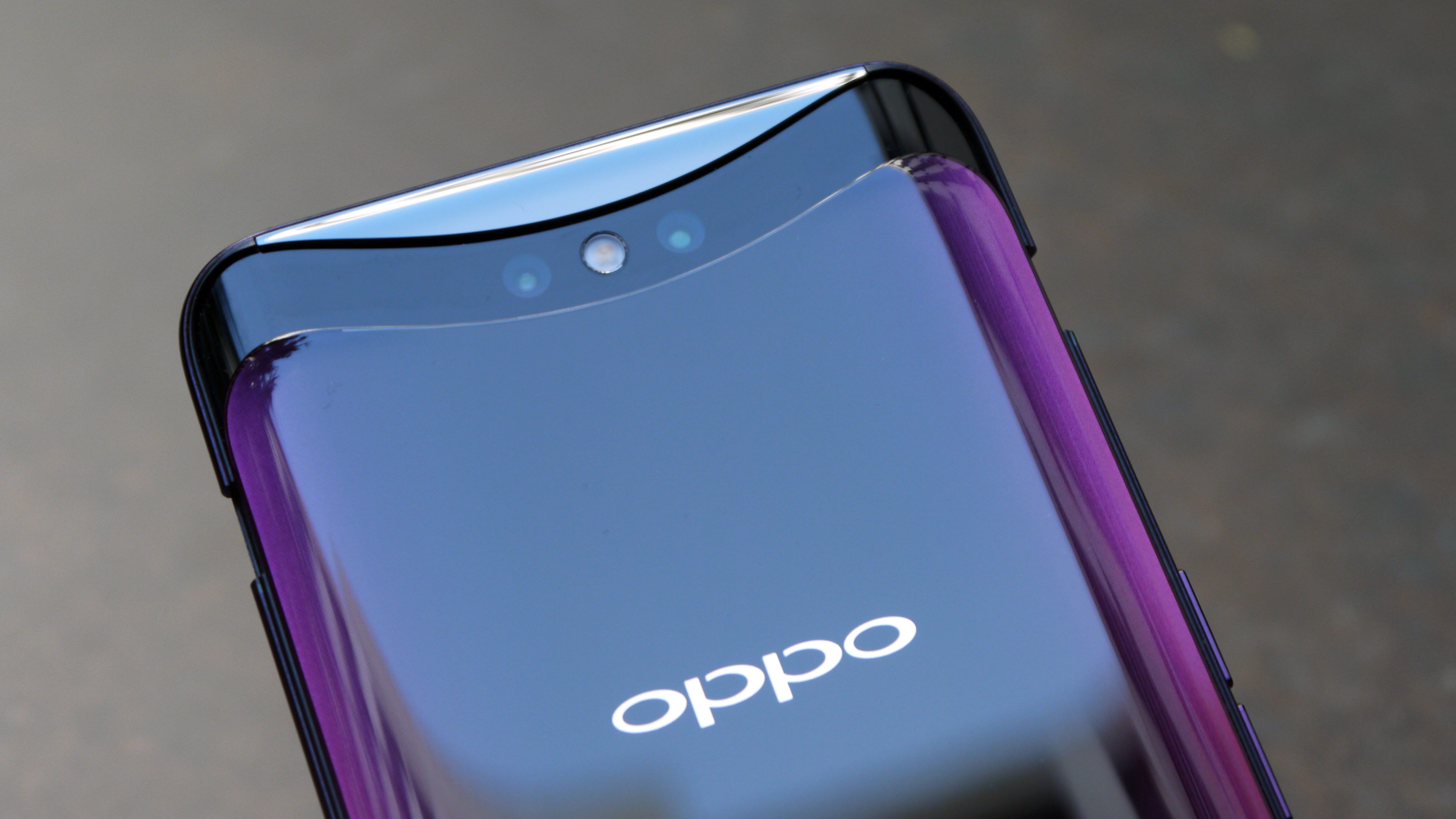 If you've used an Android from a Chinese or Korean manufacturer in recent years then you're likely familiar with 'beauty' modes, but the Find X might just sport the most extreme example of this tech we've yet seen. 
Beyond some fairly standard auto-beauty settings, and some much deeper individual tweaks like 'dermabrasion', 'slim face', and 'whiten teeth', the Find X can also employ 3D facial scanning capabilities. 
This technology allows you to create a kind of 3D-modelled death mask (or, as Oppo calls it, a 'Custom 3D Beautified Look') that apparently uses AI to apply 'delicacy', 'loli' or 'model' tweaks to the structure of your face in photos. Unfortunately, it doesn't play nicely with beards.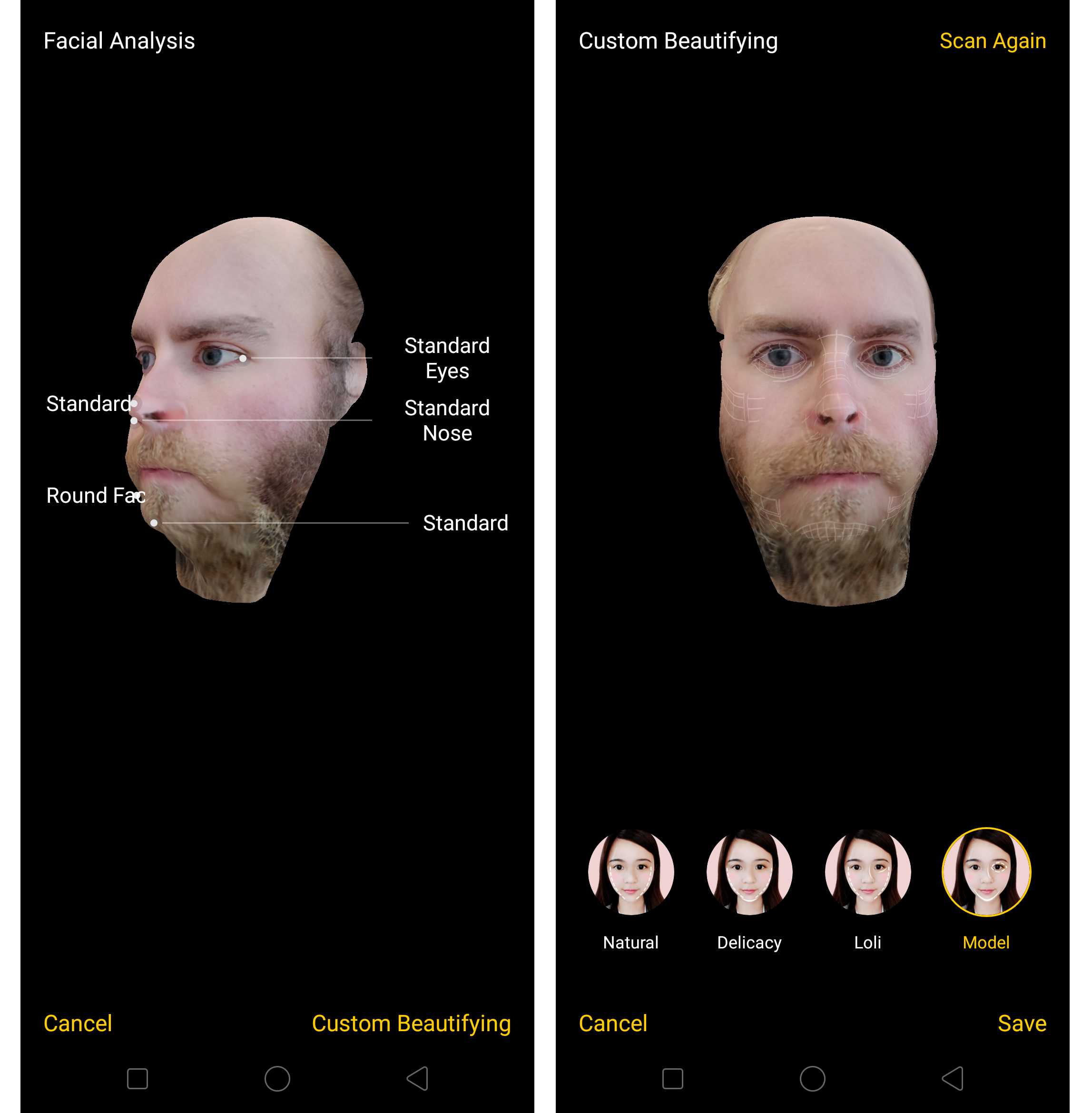 I certainly don't feel like a model.
Gimmicks aside, the front-facing camera is really quite powerful and, with the availability of several modes, is one of the better options for the selfie-inclined on the market.
As for the primary dual-lens snapper, the images are definitely up to scratch with many other Android handsets, but they suffer a little more when in low-light conditions than most other 2018 flagships.
However, Oppo's AI is surprisingly good at detecting the subject of your shots, adjusting the image settings accordingly whether you're capturing blue sky, text, indoors, or landscape.
Performance
Snapdragon 845 with 8GB RAM
Adreno 630 is solid for gaming
No NFC
As we mentioned earlier, Oppo's crammed in some real beef when it comes to internal components, and it pays off quite smartly across the board.
The Qualcomm Snapdragon 845 is still the chipset to beat for Android handsets, and alongside 8GB of RAM, this is a top-shelf combo. In our history of benchmarking using PCMark Work, the Find X has the top score with 9,971, with the nearest competition (the HTC U12+) more than 1,000 points lower.
Its Geekbench 4 single- and multi-core scores also impress (2,316/7,764), with little in the way of competition outside of Samsung's latest line of Galaxy flagships.
This makes for a handset that is beyond capable when it comes to everyday tasks – we never noticed a single stutter in practice – and will excel at more compute-heavy tasks as well.
As for its graphical prowess, the Adreno 630 GPU is either the best in the mobile realm, or very close to it. Once again, the Oppo Find X topped our charts for all of our 3DMark and GFXBench tests, narrowly beating the HTC U12+, despite sharing the same GPU.
As we mentioned earlier in the battery tests, we did find that GPU-intensive tasks seemed to drain the battery at a much faster rate comparable to other handsets, so it's likely that there's an optimization issue in this area.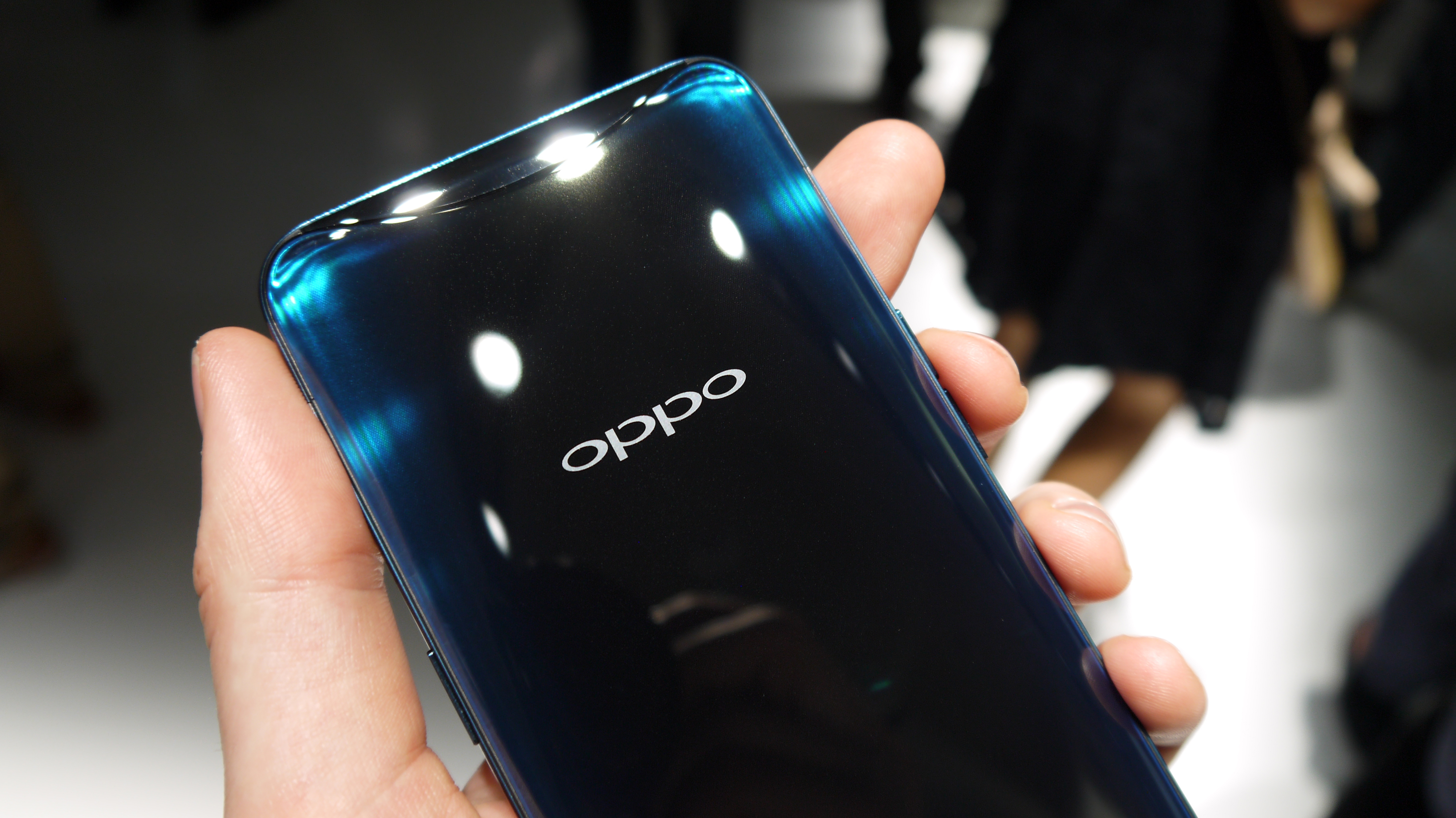 Now, we've raved about the hardware potency of the Find X, but this isn't the only ingredient in the performance recipe. A common area of concern for Oppo is its user interface, and unfortunately the OS is no less frustrating with this flagship.
Aiming for an Apple-esque style iOS feel, ColorOS often manages to combine the worst of the two competing platforms. While there may be iOS-style simplicity, the hidden functions are somewhat vital to Android handsets, and when it comes to the customizations and 'clever' adjustments you can make, the OS is often too pushy in its approach.
While ColorOS certainly isn't the slickest Android skin around, many of its quirks can be overcome (or at least adjusted to) with use. While that's a compromise some people may be willing to make, some of its annoyances are frankly difficult to forgive. 
For instance, the inability to swipe away notifications with a single gesture (it requires a swipe and a tap) is much more frustrating than we were expecting it to be. Considering the average user will be doing this dozens of times a day, it's no small inconvenience to be doubling the effort required.
Verdict
While the Oppo Find X succeeds in pushing the boundaries of the modern smartphone, it does so at the expense of many staples that we've come to expect from a contemporary flagship.
The Find X doesn't have NFC, a headphone jack, waterproofing, a microSD card support or a fingerprint scanner. It could be forgiven for lacking any one of these features, but the sum total of these absences doesn't bode well against its premium competition.
The internals of the Find X make for a really capable phone – Snapdragon 845, 8GB of RAM and an Adreno 630 GPU is a deadly combo – but it's a shame Oppo's ColorOS is still a little intrusive.
If Oppo had gone a more traditional route and swapped the pop-up camera and bezel-free design in exchange for some of those omitted hardware features, the Find X's immense performance capabilities and sleek design could have cemented it as a premium alternative to Samsung and Apple flagships.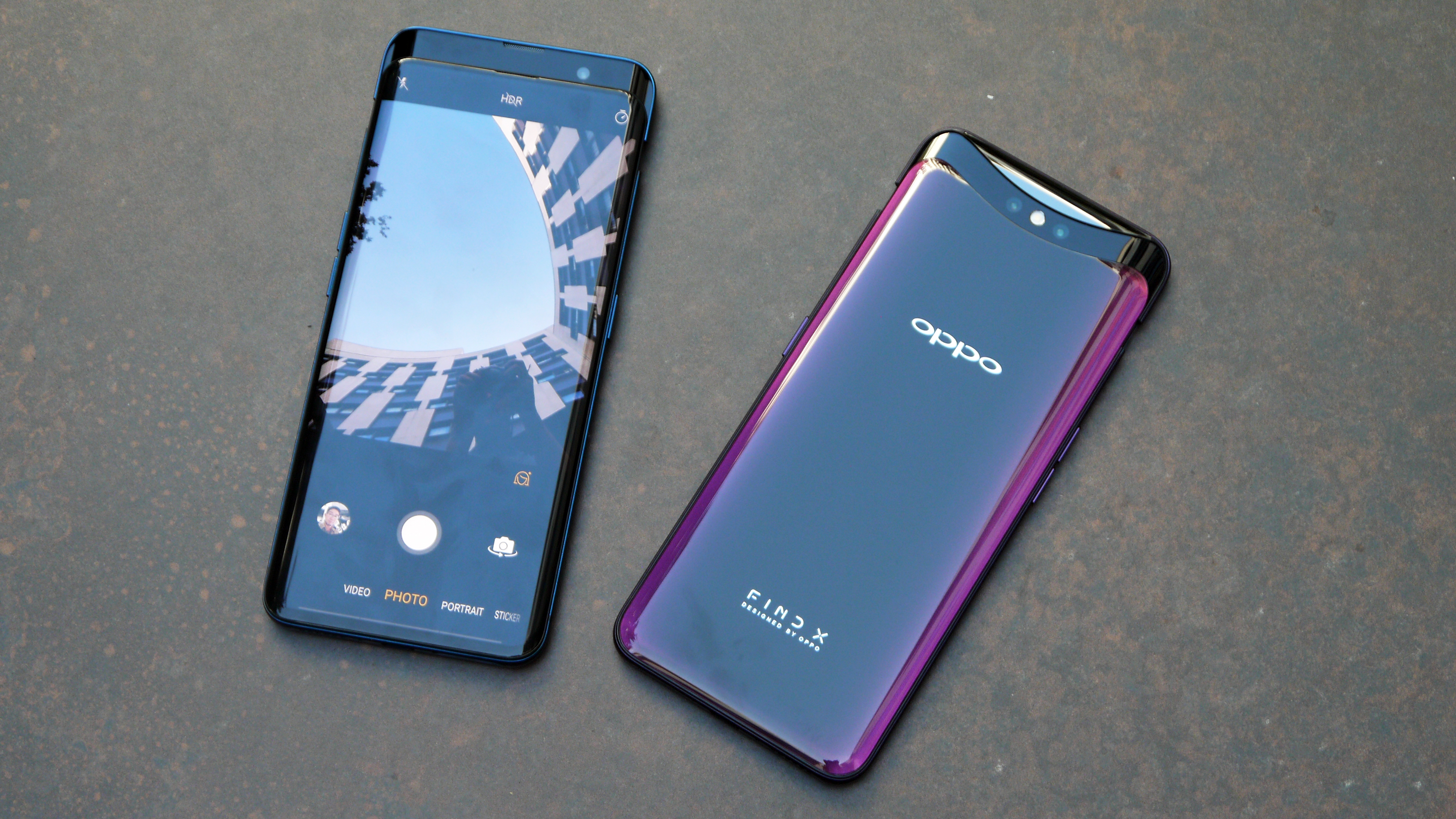 Who's this for?
If you're not necessarily chasing a flagship with a fingerprint scanner, headphone jack, microSD card slot, NFC, or waterproofing, then the Find X is going to be a much more appealing prospect for you. 
If you already treat your phone like a newborn child, many of the longevity and fragility concerns will likely be outweighed by the handset's gorgeous aesthetic, and for those that need a powerful phone, there are few more capable on the market at present.
Should you buy it?
Considering this is the first (of many, we predict) handset to hit the Western market with the bezel-free display and pop-up camera combo, there'll likely be a few kinks ironed out in future products with the same format. If you can wait, then, subsequent handsets will likely improve the formula and reduce the number of compromises that need to be made.
If you're keen on jumping on the trend early, however, then the Find X certainly has plenty of selling points. If the design appeals to you and the missing hardware features aren't going to bother you, this is a powerful and pretty device that's slightly ahead of the design-curve.
Samsung Galaxy Note 9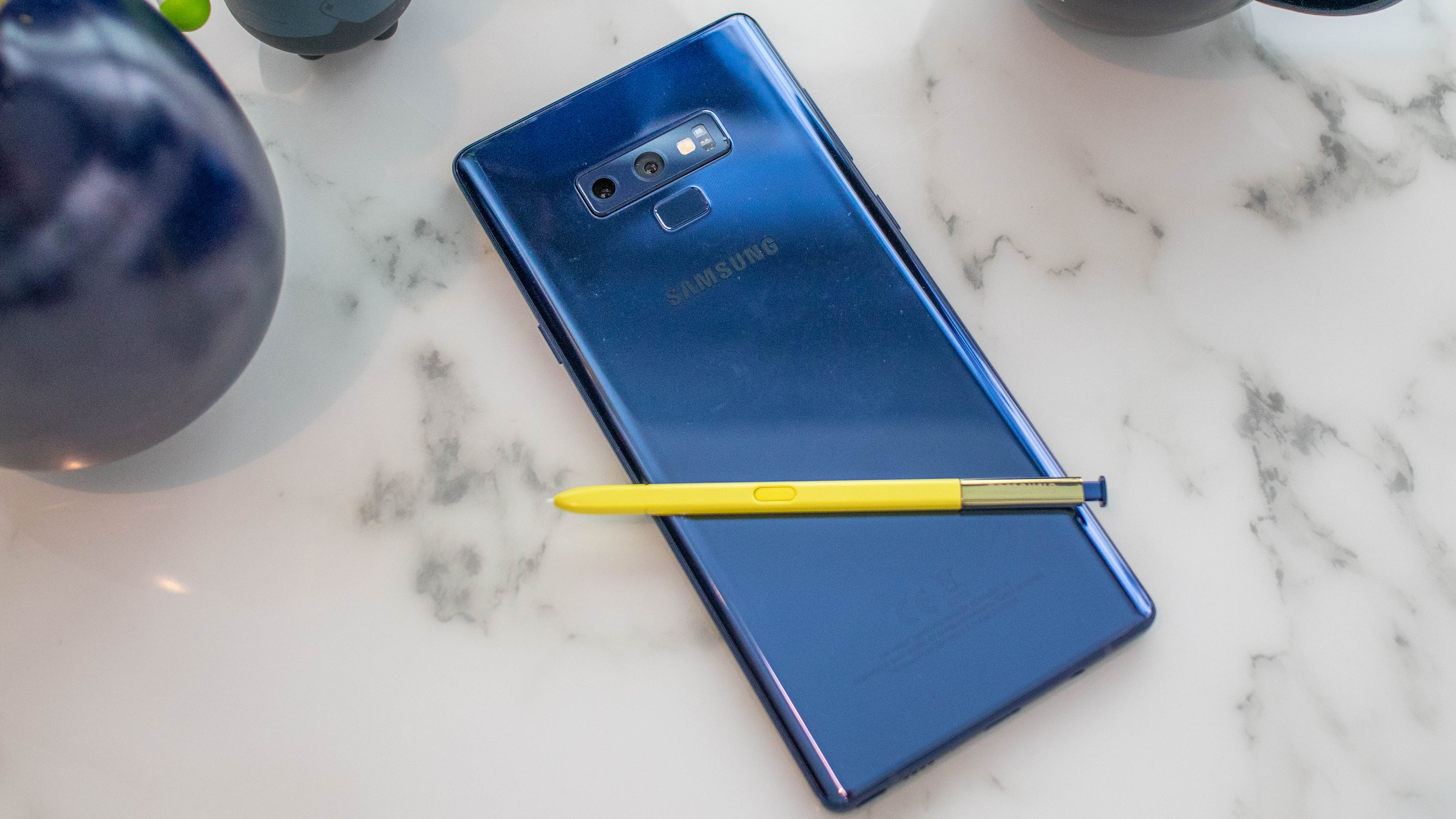 If it's the best-of-the-best you're looking for, then the Galaxy Note 9 is the pinnacle of Android handsets right now. Instead of worrying about notches or novelties, the Galaxy Note 9 packs in top-end specs and a gorgeous display into Samsung's trademark sleek chassis.
In Australia, there's a considerable price difference between the Find X and even the lowest-capacity Note 9 (it's $1,099 for the Oppo versus $1,499 for the Samsung), but the difference likely won't be quite as wide in other geographic regions. 
Read our full Samsung Galaxy Note 9 review here
iPhone X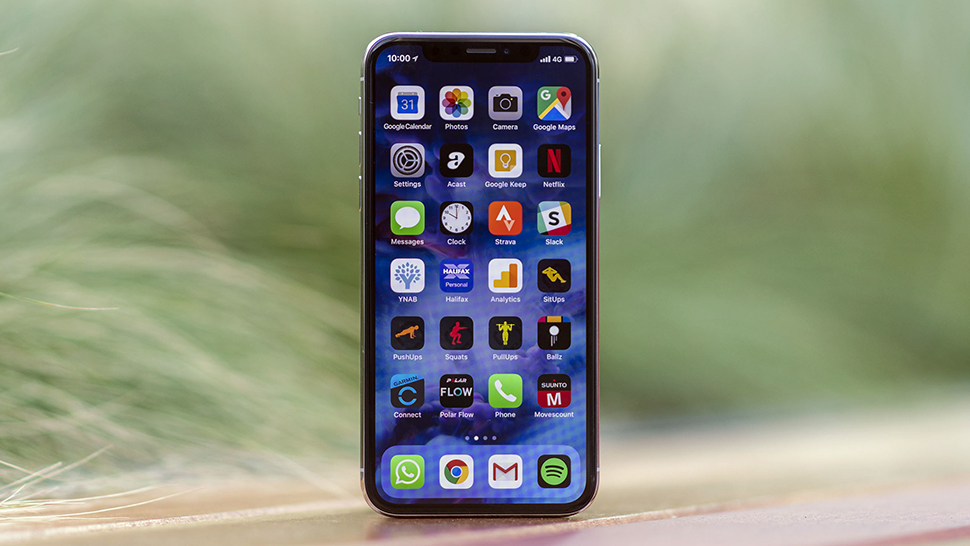 Oppo's ColorOS clearly takes some interface and design queues from Apple's own iOS, so if you're chasing that Apple aesthetic with an expansive display, the iPhone X is the clear choice.
Obviously, you'll have to deal with the iconic notch – love it or hate it – and there'll be a similar jump in price as you'd find from the Find X to the Note 9, but this is your best choice if you're dead-set on an authentic Apple experience.
Read our full iPhone X review here
Huawei P20 Pro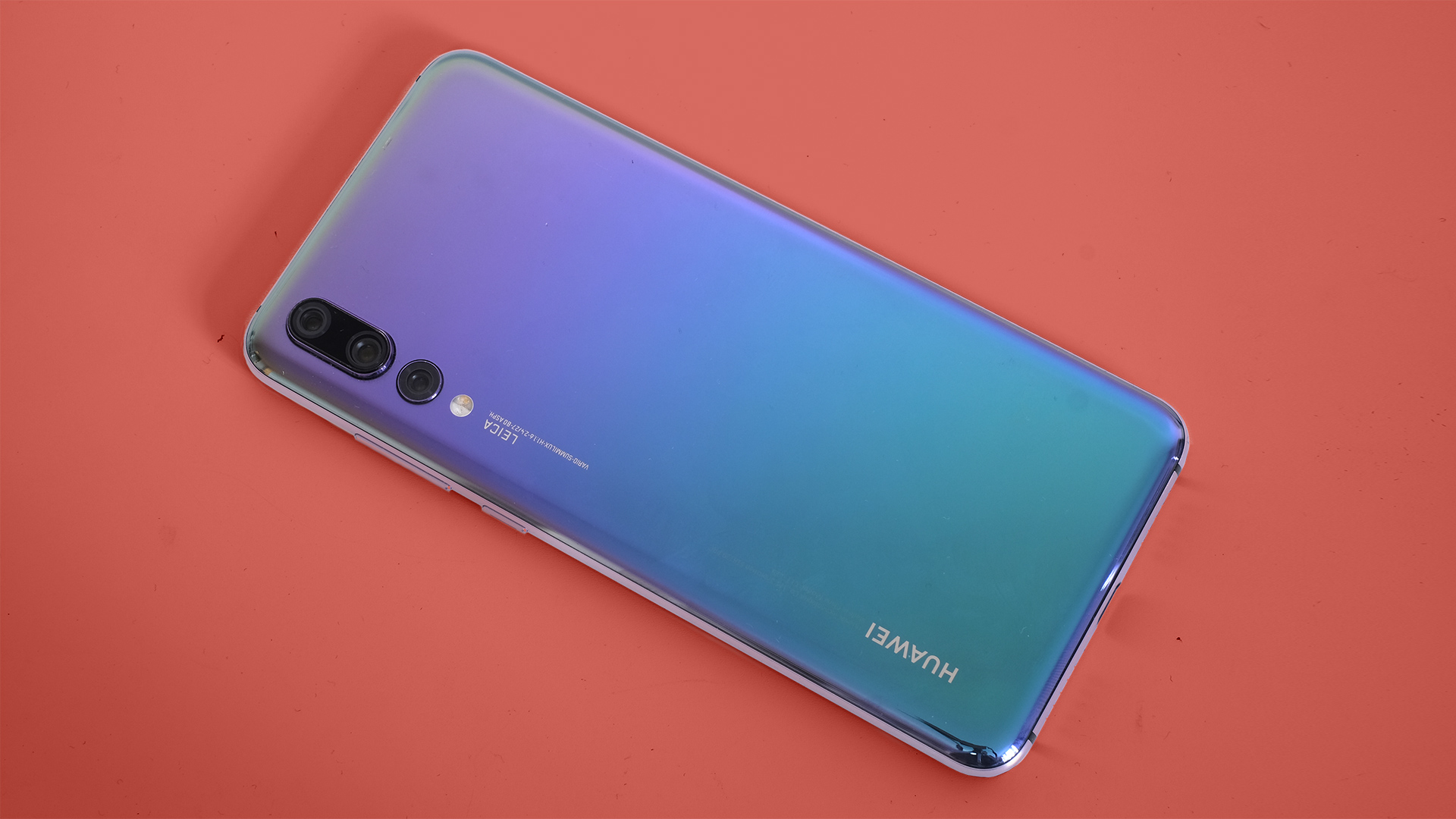 For a similar price, the Huawei P20 Pro offers much the same performance and prettiness as the Find X while dropping its gimmicky camera. A powerful performer with a triple-lens rear camera and top-notch specs, this is probably the best non-Samsung Android going at the moment.
Unlike its competitors, Huawei flagships drop in price a tad quicker, so if you're able to snatch this up for slightly less, it's one of the most compelling handset offerings on the market at the moment – especially if you're after an iPhone X aesthetic with Android functionality.
Read our full Huawei P20 Pro review here
Date:
Sunday, September 2, 2018 - 23:27