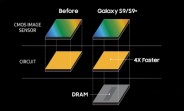 Samsung releases a blog post today offering more insight on how the phone maker was able to put 960fps Super Slo-mo into the Galaxy S9 and what difference it has over the Galaxy Note8's camera to make it possible.
First off, the Samsung Galaxy S9 and S9+ can record 960 fps for 0.2 seconds. This is stretched out to playback over six seconds and is 32 times slower than normal video recording. Samsung also threw in GIF exporting, reverse, and swing options to share your creations.
Of course, the issue that Samsung faced was that modern CMOS sensors capture light sequentially, which...
Date:
Wednesday, April 4, 2018 - 20:30