The Samsung Galaxy Watch is one of the most refined smartwatches you can buy today, with an aesthetically pleasing design, cohesive user interface and, importantly, four-day battery life.
It's everything the Apple Watch 3 is not – for better and worse. Let's start with what's better. The Galaxy Watch looks and feels like a high-end wrist watch, with a circular stainless steel case and decorative bezel. It's both stylish and functional because, like the Gear S3, the bezel rotates to cycle through its various on-screen menus.
This is the most satisfying way navigate a smartwatch. Your fingers won't cover up the watch's small, hard-to-accurately-target touchscreen (true of any smartwatch), and it's an idea exclusive to Samsung's newer watches. You won't find rotating bezels supported by Google's Wear OS, and Apple's watchOS uses a less intuitive rotating digital crown button on the side. This is one of two reasons the Galaxy Watch runs Samsung's Tizen software, not Wear OS.
To see the Samsung Galaxy Watch in action, watch our hands-on video below:
The other reason for the Tizen operating system is battery life. We found that the larger 46mm Galaxy Watch lasts a solid four days with normal use – during which we checked messages, fetched constant notifications, tracked workouts, played Spotify, and talked to Bixby, Samsung's mostly terrible AI. Samsung says the smaller 42mm Galaxy Watch lasts three days.
The big difference between the Galaxy Watch and the previous Gear S3, besides an extra day of battery, is that it's more fitness-focused thanks to additional sensors and a Samsung Health revamp. It can now auto-detect six of [of an expanded] 39 exercises, has helpful nudges when you're too sedentary, has fairly accurate sleep tracking. It's also waterproof up to 50 meters, matching the Gear S3 Sport 5ATM rating in an adult design.
The Galaxy Watch does inherit problems from previous Gear watches – and what's bad is almost all software related. Samsung's core apps are polished, sure,  but the Galaxy Apps store lacks critical third-party apps, most notably Google Maps, Facebook Messenger, and WhatsApp. Samsung's Bixby voice assistant, is here, but it was no better than S Voice at understanding us.
The Samsung Galaxy Watch is very much the Samsung Gear S4 that never came out. It's an iterative update, one that adds fitness software, new sensors, and extra waterproofing to everything we liked in the Gear S3 Classic and Gear S3 Frontier a year and a half ago. 
It's a sophisticated-looking smartwatch in two sizes that ends up being great to wear for notifications and exercise. That's if you don't want the best Garmin watch for super serious fitness tracking. That's a key reason a lot of people we talk to wear a smartwatch: notifications, fitness, and light app usage. Anyone who wants something more out of the Galaxy Watch is measuring Samsung's best up against a smartwatch that won't exist until 2019 or 2020.
Samsung Galaxy Watch release date and price
The Galaxy Watch launched first in the US on Friday, August 24, the same day the Note 9 came out, and is launching on September 6 in the UK. We'll update this section when we know the release date in other regions.
It's actually cheaper than the Gear S3 was at launch – depending on the size. The new watch starts at $329 / £279 for the 42mm version, and $349 / £299 for the larger 46mm size we recommend. When it first came out, the Gear S3 cost $349 / £349 (around AU$475), and it only came in one size. 
The LTE version of the Galaxy Watch cost $379 for the 42mm, and $399 for the 46mm through T-Mobile. Other US carriers like AT&T, Sprint and Verizon will sell it later in 2018. In the UK, the LTE watch will be sold later this year, but pricing is unknown. 
Size
The Galaxy Watch comes in two sizes: the larger 46mm size in a two-toned silver-and-black color scheme, and the smaller 42mm size in either straight up Midnight Black or Rose Gold. We tried on both sizes and recommend the 46mm version for its larger battery and bigger touchscreen. It looks fine on medium-sized wrists if you don't mind a slightly bigger watch.
Previous hands-on impressions
We've taken off our Apple Watch 3 and strapped on the Samsung Galaxy Watch, and we're believers – this is a better, more full-featured smartwatch. Watch out, Apple.
The rotating bezel to navigate the UI is inventive, the amount of watch faces you can choose from is in the thousands, the options for quick replies to messages are more plentiful, and the fitness tracker is smarter and more robust.
The Galaxy Watch doesn't look too different from the Gear S3 due to its circular face and metal casing, but it's among the most pleasing smartwatch designs out there. It looks more like a real watch than Apple's boxy smartwatch. It's the software and sensors inside that make the difference, especially for fitness tracking.
Pairing it with the Note 9 (it also works with other Android phones and even iPhones) we were able to set things up in minutes, and put the exercise tracking to good use right away. There are more categories (39 in total) and longer battery life. 
When we stopped exercising and sat down to write for an hour without much movement, the watch actually pestered us to do some torso twists (or other exercises). This is more than just a reminder to stand up once an hour. It actually tracked the torso twists reps, too.
Obviously, the Samsung Galaxy Watch battery life is going to fluctuate with use. Heavy heart-rate monitor and GPS usage is going to burn through the battery more quickly. But Samsung says the watch – even the LTE version with cellular turned on – should last you between three and four days with normal use, depending on the size (46mm is four days, 42mm is three days).
We're putting the battery life and other features to the test this week and all weekend to judge for ourselves. Our watch setup, a full workout, and did burn through the battery faster than Samsung's estimates, but we'll wait for a full charge and discharge before officially rendering a verdict on that. We're also seeing how much drain the always-on display adds to the battery life impact.
So far, the only things we dislike about the Samsung Galaxy Watch are Bixby and the lack of Google Maps on the smartwatch. Bixby is here, but asking it to bring up any sort of mapping software is futile – there is none as far as we've found. Likewise, Bixby didn't properly understand what we were asking. 
We're more confused than mad about the inductive charger's use of a microUSB port and cable (included). With USB-C becoming to ubiquitous on newer devices, we thought we were beyond that, Samsung. Luckily, it can be wireless charged using a Qi charger, like the Samsung Wireless Charger Duo.
Check back for more impressions on this smartwatch in the coming days.
Galaxy Watch look and feel
The circular Samsung Galaxy Watch is getting closer to looking like a real watch that we don't want to take off for special occasions. It fits right in to your everyday life.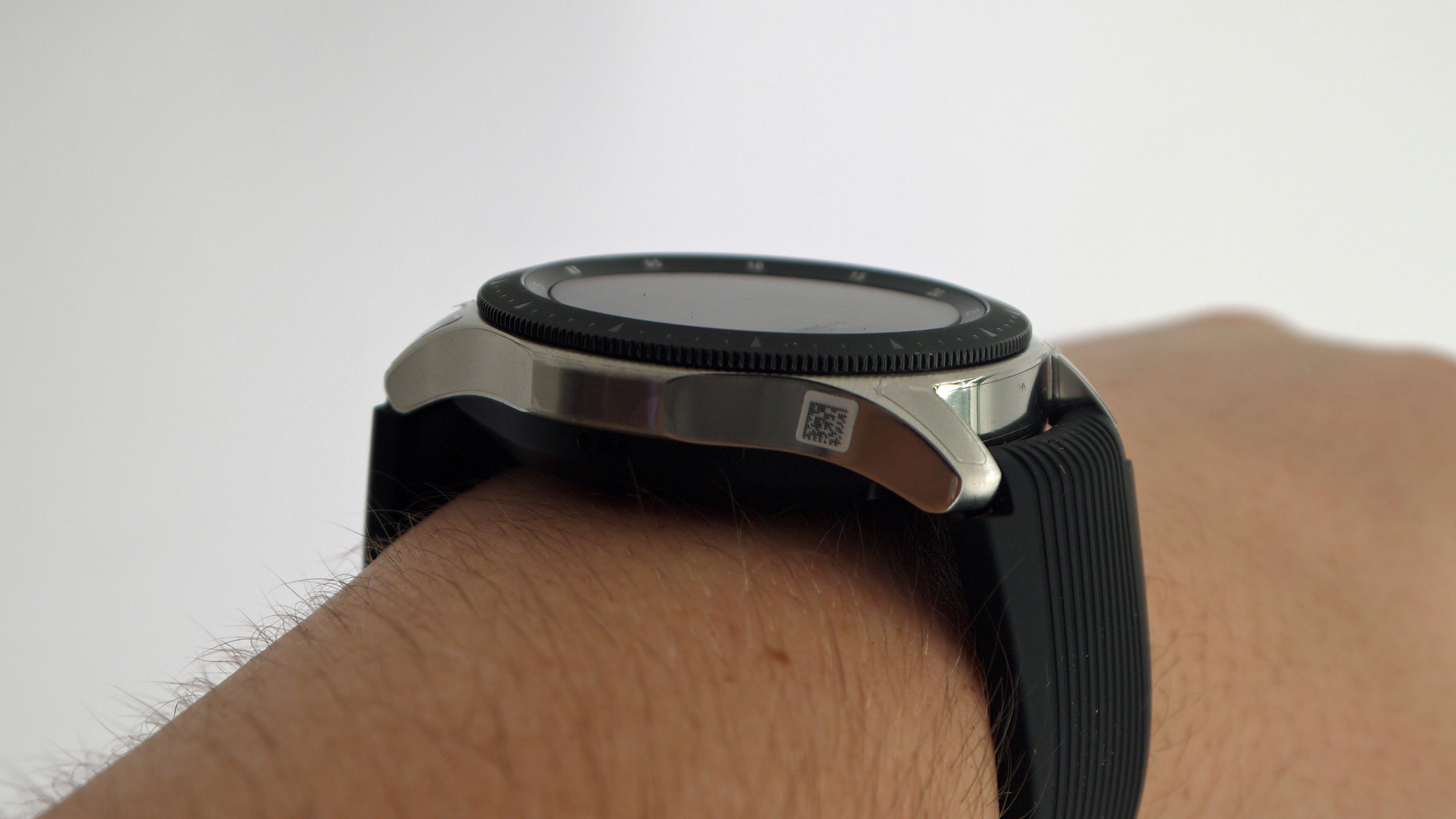 It's very similar to the Gear S3 watch design, with a large face and durable-feeling metal body. There are buttons on the side, and you can also rotate the watch bezel to cycle through apps and menus.
The Galaxy Watch comes in two sizes: there's the larger 46mm silver watch with a 1.3-inch (33mm) circular Super AMOLED display. It measures out to be 46 x 49 x 13mm and weighs 63g without the strap, and it looks and feels quite big.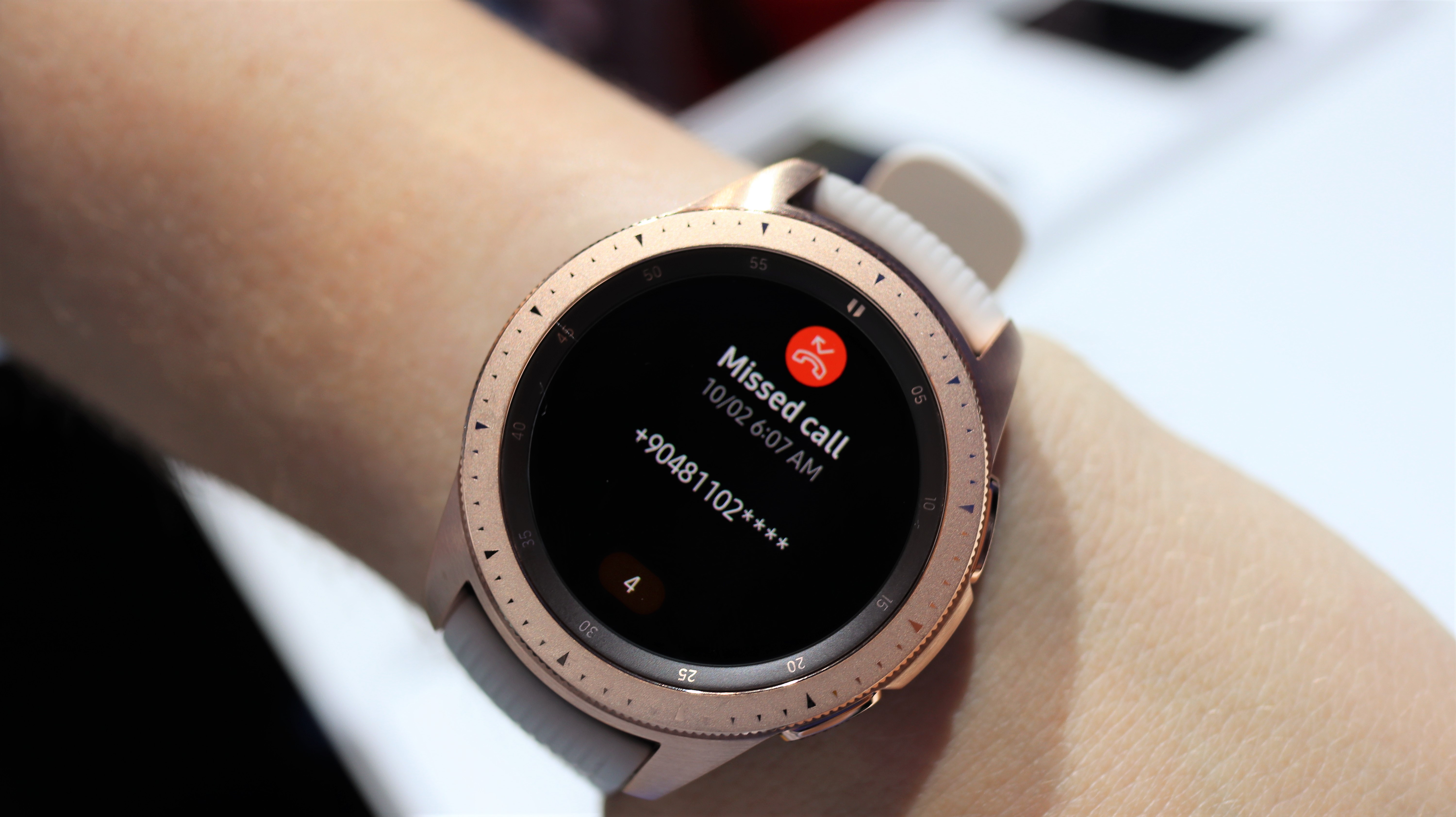 The equally stylish Galaxy Watch 42mm comes in either Midnight Black or Rose Gold and it has a slightly smaller 1.2-inch (30mm) display. It measures 41.9 x 45.7 x 12.7mm and weighs 49g. It's a better fit for medium and smaller wrists.
There's some more color flair to the smaller watch, too. It uses 20mm straps, which come in colors of Onyx Black, Lunar Grey, Terracotta Red, Lime Yellow, Cosmo Purple, Pink Beige, Cloud Grey, and Natural Brown.
The larger 46mm watch uses 22mm straps with more limited strap color options: Onyx Black, Deep Ocean Blue, and Basalt Grey. 
Sure, you may get more color options with the smaller watch, but if the big size fits you, we recommend that one for its extra battery capacity. There's likely to be a big difference between the battery life with a 472mAh cell on the larger edition and 270mAh on the smaller size.
Samsung says that the extra battery life helps the watch 'last for multiple days on a single charge'. That's very non-specific, so you'll have to wait for our full Samsung Galaxy Watch review for the complete battery life breakdown.
New Galaxy Watch features
The Samsung Galaxy Watch is dust- and water-resistant with a diving rating of 5ATM and a rating of IP68. On-board sensors include an accelerometer, gyroscope, barometer, heart rate monitor, and Ambient Light sensor. There's wireless charging on here, too.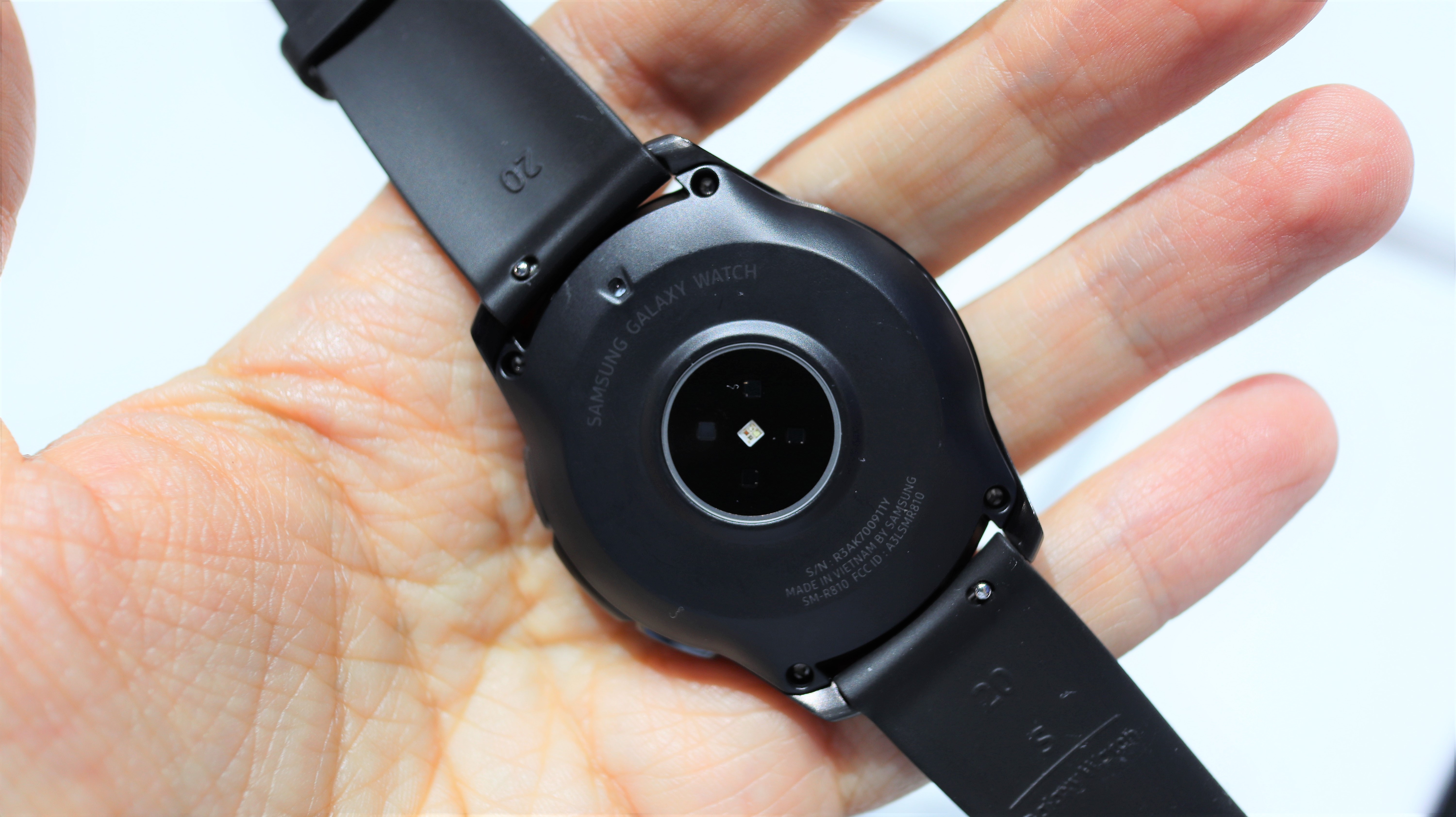 Health is a big component of the Galaxy Watch, which expands on Samsung Health with new stress management and breathing features. There are also 21 new indoor exercises and 39 tracked workouts overall.
Samsung says you have the choice of 60,000 watch faces, and we really liked the new circular watch face which hides calendar information in the on-screen dial. That's going to be our new go-to watch face when wearing this.
Bixby, which is Samsung's AI voice assistant, it supposed to replace S Voice on the watch, Samsung said at its Note 9 press conference. The company didn't have a lot of details on how it would work, but it should be able to mirror the commands you issue to your Galaxy smartphone and, soon, the Samsung Galaxy Home speaker. 
Samsung is continuing to push SmartThings and Samsung Pay from the wrist, which are convenient features once you actually set them up (and remember your Samsung ID and password for all of this).
The Galaxy Watch is compatible with Android phones as long as they're running Android 5.0 or later, and it works with the iPhone 5 and later as long as it's been upgraded to iOS 9. We still don't expect to be able to reply to iMessages from the wrist (due to Apple's walled garden).
Interestingly, while both the Bluetooth and LTE watches have the same dual-core 1.15GHz chipset, 4GB of storage, and Tizen OS 4.0 operating system, the LTE version has 1.5GB of RAM, and the Bluetooth model uses 768MB of RAM. That extra RAM may be to keep the cellular connection running.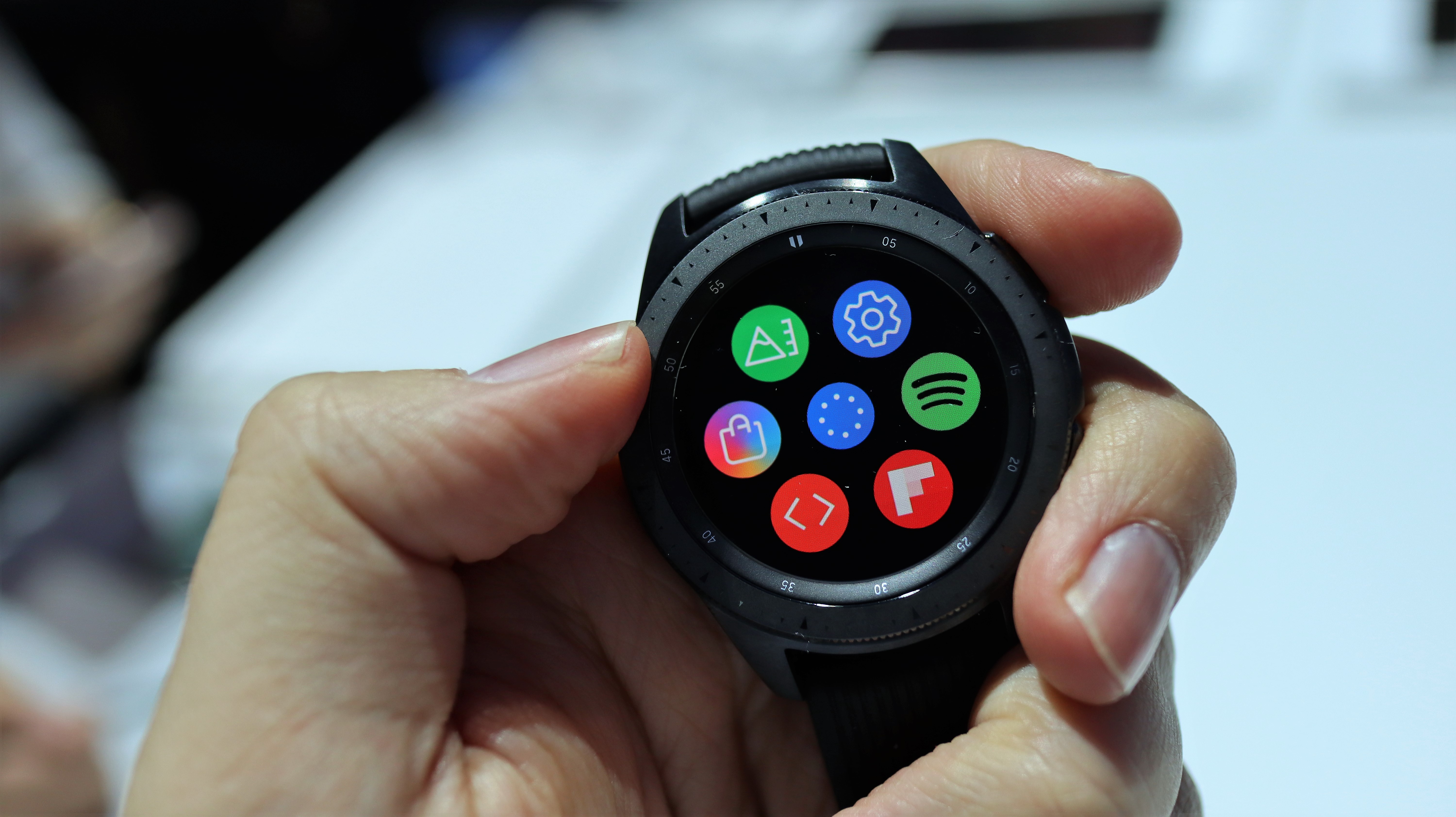 Early verdict
The Samsung Galaxy Watch is launching at the same time as the Note 9, and it looks and feels like it's pushing  smartwatches to become more stylish and last longer.
Samsung is eschewing Wear OS (formerly Android Wear) with its latest smartwatch, and that may be the reason behind its longer battery life. Other perks include new watch faces, Bixby Voice on the wrist, and water-resistance almost as good as the Gear Sport. There's some neat workout software additions here, too.
It doesn't change enough for you to run out and buy a whole new smartwatch if you own the Gear S3 or Sport, but it does move the the needle – or dial – in the right direction.
Date:
Tuesday, September 4, 2018 - 02:33